<![if !vml]>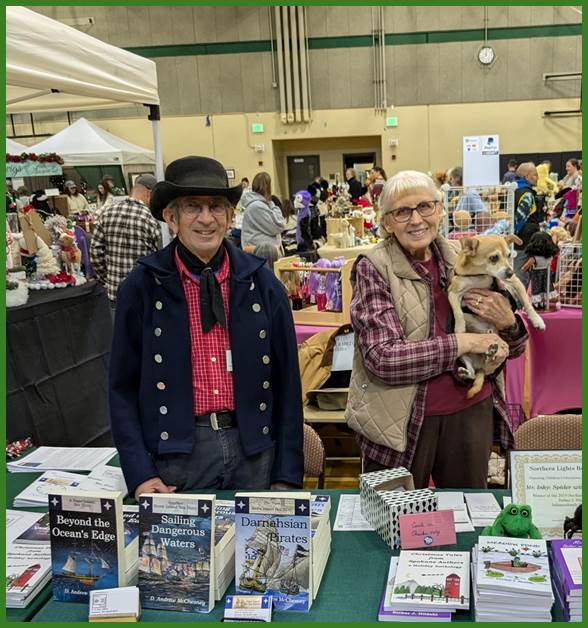 <![endif]>
Spokane Authors & Self-Publishers
Member Roster with
Links to Member Web-Pages
          Here is where you can find out about the life, interests, and books of our members. Just click on the name of the person to visit their Member Web-Page.  We encourage all members to contribute a biography and other information so we can better find common interests and share information. That is what this organization is all about.
          Books by individuals in Spokane Authors and Self-Publishers cover a wide range of topics, ideas, and genres.  Members and others are encouraged to purchase and read works by our members, and to write and submit a review for inclusion on our "Book Review" page.
          If a name is underlined and highlighted in blue, there is a member web-page for that person.  If your name isn't underlined and highlighted, it is time to start writing!  Please submit your biography, head shot, book information, and other pertinent information via email to our Webmaster and Secretary, Dave McChesney daveeva@comcast.net or at authors@spokaneauthors.org
Our Speakers!
          Many members of Spokane Authors and Self-Publishers are available to speak to other groups and organizations on a variety of subjects.  Click on names indicated with *** to learn more.
(Newly joined, recently rejoined, or members who were inadvertently left off this list are highlighted in yellow.)
We are setting up "Member Web-Pages," which combine biographies with links to web-sites or on-line locations, and information about the member's book(s).
Member web-pages are available via links on this page.
Note: Everyone who has paid for 2018 now has a Member Web-Page set up, so if your name is still in black and has no link associated with it… YOUR DUES ARE DUE  
To make sure your name (and link to your Member Web-Page) stays on this list, PLEASE ensure you've paid your dues for 2018!
Those not paid for 2018 will be removed in the very near future.
(Removal date is getting closer all the time!  Ensure you've paid your dues for 2018!)
Guest speakers for the current year are listed in italics.
Links to members' web-sites and blogs are included in Member Web-Pages.  For those who don't yet have a Member Web-Page, be sure to visit our "links" page.    
<![if !supportLineBreakNewLine]>
<![endif]>
Click on the name.
Bolme, Lila
Bond, Linda
Briscoe-Michas, Caryl
Brockett, Don
Bruneau, Edmond
Cagle, Barbara      16 X Mom: A Mastery of Motherhood
Camp, Beth ***    The Mermaid Quilt and Other Tales, Standing Stones, Years of Stone, Rivers of Stone
Campbell, BJ    Close Calls: True Tales of Cougar Bob
Carlson, Anya    (co-author) Illusions of Magic: The Movie
Carter, Kylea    Out of the Sand
Caudel, Joyce ***  The Hat Pin Murders, The Hat Box Mystery, A Hat to Die For
Dabill, Azalea  Falcon Heart, Falcon Flight, Lance & Quill, Falcon's Ode, Path of the Warrior, Nightshade & Knitbone
Danek, Larry   I Am the Ghost in This Body: The Nomadic Ghost, Jed's World, Ghostly Reunion
Deuber, Betty    Jody Visits Tooth Fairy Land
Eller, Sue ***   Return From Armageddon, Meadowlark Madness, Taming the T-Bird, The Gluten Free Gourmand
Ford, Russ    De-pop, Re-ring
Harris, Linda
Harvey, Tiffani   A Journey to Independence, Growing Independent
Hildahl, Bob
Hildahl, Esther  Meadow Pond, Mr. Inky: Spider with an Attitude, Marie's Marvelous Tomato
Hood, Karen Jean Matsko   Blood Heiress, Bloom of Autumn Gold, Huckleberry Delights, Transracial Adoption, Petting Farm Fun, Finding Rudolph, Morning                                                       Reflections, and many more.
Hudon, Marilee   (visit Marilee's blog via her member web-page)
Humann, Jessy
Jessett, Fred    Mountains Melt Away, My Name is Tamar, Drummer Loves Dancer
Langelier, Lisa    The Wild Eye: Field Notes From a Wildlife Refuge
Lehman, Chuck   Angels Three Six, The Big Woods, Asher, Lazarus Arise, The Shepherd, Rogue 6, Exposure: A Story of Survival and Intrigue
Manion, Bob   Santa's Heroes, The Tree House, Springer's Heart, Summer Rain, The Vampire and The Cop, Sabrina's Promise
Mason, Sandy
McChesney, David A. ***   Beyond the Ocean's Edge: A Stone Island Sea Story, Sailing Dangerous Waters: Another Stone Island Sea Story
Moore, Emily
Moyer, Susan  (visit Susan's web-site via her member web-page)
Murray, Will
Noble, Linda
Parks, Stan  Jakob's Ladies
Parry, James  ***   Book All the Teachers!
Poitevin, Kate    Saving Tir Gaeltacht (Now in three volumes: The Unexpected Summer Adventure, Quests, and Battle for New Tara)
Potter, David Y.
Price, Johanna  (Writing as J. Tau)   Raising Buckshot: A Family's Experience With Autism
Rae, Kathy
Rivard, J. B.    Illusions of Magic, Illusions of Magic: The Movie
Sasser, Henry P. III    (visit Henry's blog via his member web-page
Schrum, Kathleen
Seedorf, Rita
Silliman, Jim
Smith, Brett
Spitzer, Wayne Kyle   Comes a Ferryman, The Tempter and the Taker, The Pierced Veil, Black Hole, White Fountain, and more
Verhoef, Margaret
Weldin, Bob *** The Dry Diggin's Club, The Adventurists
Wilkens, Joyce    Teacup Art…and Reflections, Walking Sticks: Wanderings and Wonderings
Past Speakers (Honorary members)
Bill Bancroft
Mallory Battista
Joan Quall Becker
Victor Bobb
Wendy Carroll
Doug Clark
Jan Cline
Michelle Cline
Mark Cochran
Sandy Compton
Stacey Conner
Sara Conover
Carol Crigger
Mary Farrell
Shann Ferch
Cindy Hval
Doreen Fox Kelsey
Megan Kennedy
Patrick F. McManus
Mike Miller
Anne Mini
Josh Misner
Anne Corliss Morris
Dan & Angela Mortimore (with Paul Oman)
Dawn Nelson
Stephen Pitters
Sarah Porter
Elise Raimi
T. Dawn Richard
Jack Rogers
Robert Roose
Esta Rosevear
Penelope Rundle
Robert Singletary
William Stimson
Blythe Thimsen
Jessica Titchenal
Dawn Troxel
Niki Breeser Tschirgi
Frank Zafiro
Writing Eternally!
Peggy DeHart
Al Jack Dymond
Elmer Freeman (founder)
John Heffernan
Don Johnson
Beatrice Knorr
Polly McMahon
Harry Merrick
Elizabeth Michael
Irene Pancner
Patti Richardson
Kay Ringo
Lester Smith
G. H. Thompson
Vasquez, James
Conrad Wicht
Stanley Wood
<![if !vml]>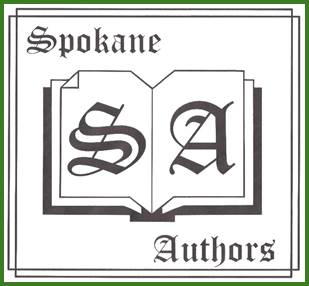 <![endif]>
Spokane Authors & Self-Publishers
Page revised 03/20/2018 dam
©2006 www.spokaneauthors.org